My approach to yoga has been formed by 20 years of personal practice in yoga & insight meditation and 15 years of teaching practice, with many different disciplines & meetings informing my understanding and influencing my journey. Perhaps unsurprisingly the early years saw much learning from the ancient teachings & texts and from a number of teachers from different "schools". There was a lot of theory transmitted in the traditional top-down way and the practice was prescribed. Over time as I gained confidence & kindness in my own practice there was a clear shift to learning from within, from the experience as it was happening, from body sensations, from the breath. This bottom-up approach, where we can trust our inner authority, feels steady and true. Not only do we feel better within ourselves, we feel better in the world around us.
In this somatic embodied approach there is no performance, there isn't right and wrong, we are not in the service of the postures. The shapes that we make with our bodies are ways to explore our experience, to develop a sensitive and refined awareness of ourselves, to find ease and comfort. It's a home-coming which can often touch us deeply. As we release unnecessary muscle tension we begin to find support from the ground, from our bones, from the space around us, and we explore our relationship to gravity. We move more easily, more lightly, more joyfully – in our bodies and in life.
A question to keep asking ourselves "Why do I practice Yoga? What is my intention?"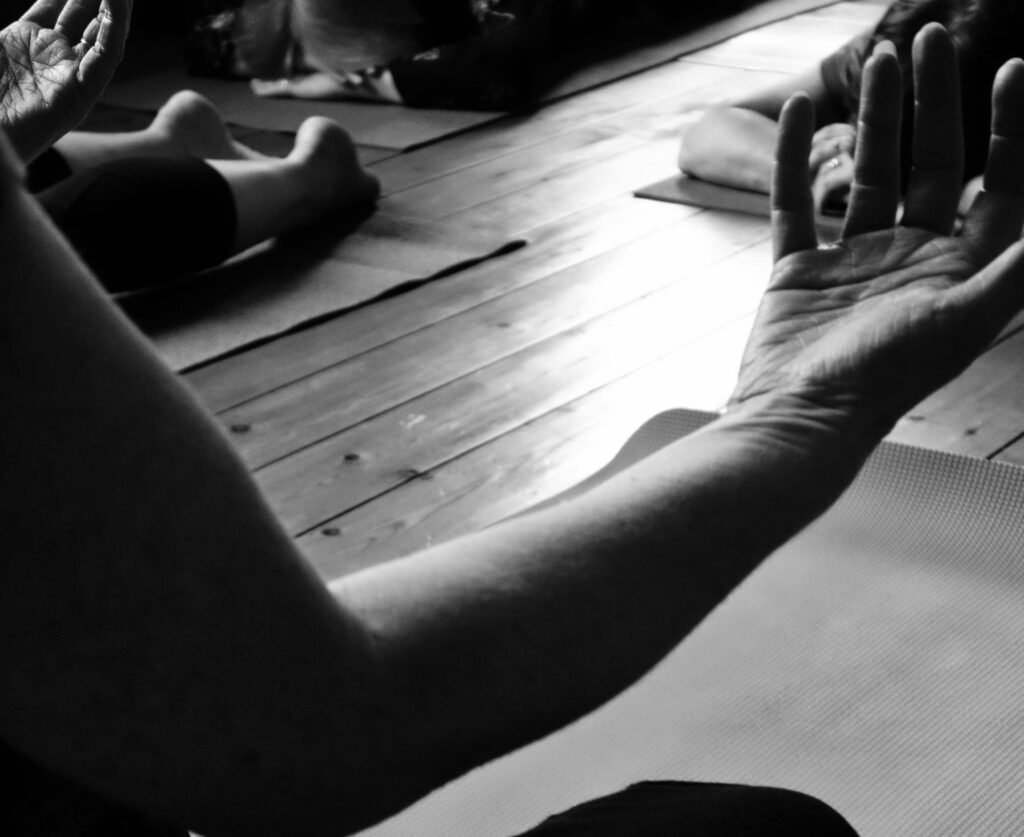 I see my role as a teacher as one that is facilitating & supporting this process of self-discovery, rather than give instructions I prefer to offer invitations, point out areas where we could bring more awareness and attention, notice our blind spots, remember the breath, ask what we can let go of, check that we're still able to smile : – )
Some of the many benefits we can experience from this kind of practice:
Greater awareness and care of body, mind & heart – sense of wholeness
Relief from aches and pains – more ease in movement
Calming of stress, tension, anxiety, agitation – regulation & steadiness of the central nervous system
Refreshed energy levels – sense of aliveness
Developing resources that nourish – taking care of ourselves
Cultivation of well-being, joy & happiness – resting into our being
Deeper connection with ourselves & others – opening to the world
I offer a number of different group yoga classes during the week and give private and personal one-to-one sessions.
There is a weekly meditation session, monthly Forest Walk and a 6-Week Mindfulness Course.
You are welcome to come and try a class, don't hesitate to get in touch.
We are a registered non-profit organisation abiding to a number of ethical principles, find out more about Roots ASBL.